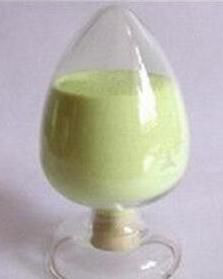 CAS No.10592-13-9
Chemical Name: Doxycycline hydrochloride
Synonyms: ecodox;retens;doxy-ii;midoxin;novadox;samecin;tecacin;Doxylin;liomycin;mespafin
CBNumber: CB4489445
Molecular Formula: C22H25ClN2O8
Formula Weight: 480.9
Doxycycline hydrochloride Chemical Properties,Uses,Production
Chemical Properties
Yellow Crystalline powder
Uses
antibiotic
Uses
Doxycycline hydrochloride is a salt prepared from doxycycline taking advantage of the basic dimethylamino group which protonates and readily forms a salt in hydrochloric acid solutions. The hydrochloride is the preferred formulation for pharmaceutical applications. Like all tetracyclines, doxycycline shows broad spectrum antibacterial and antiprotozoan activity and acts by binding to the 30S and 50S ribosomal subunits, blocking protein synthesis.